Pressure transducer type tp1 for one control panel type 1QM/CE 1QT/CE, Q2PM/CE, Q2PT/CE and Q3PM/CE Q3PT/CE.
The pressure transducer type TP1 is a sensor suitable to be fixed in the tube outlet of our collectors in steel AISI 304.
It has the ability to read something as strong as pressure and transform it through an electric circuit in a voltage of between 0V up to 5V.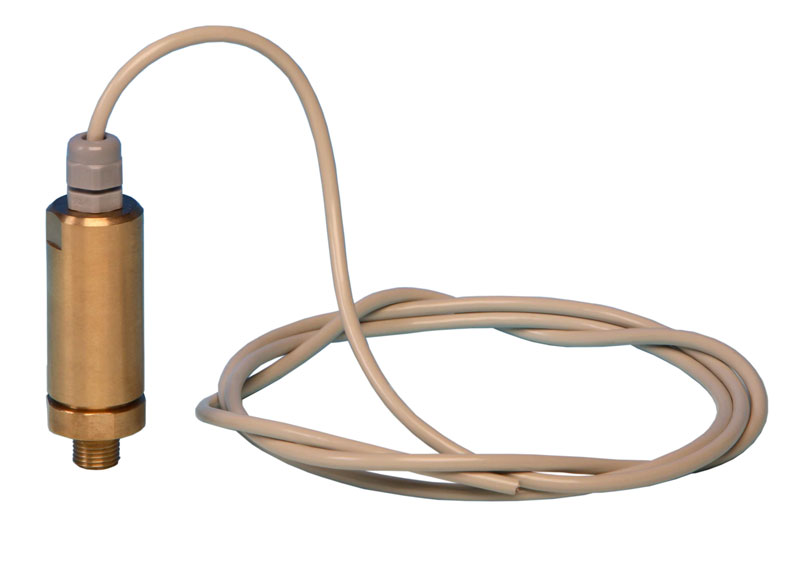 MANIPULATION OF THE LEVEL TRANSDUCERS TYPE TDL1
Move the level transducer with great care, as is it a very sensitive product and can be easily damaged by being knocked or shaken.

Fix the level transducer in the sleeve by screwing in. Take care not to create any pressure, so ensure that the shutter is open. An extra pressure of one bar for the 200cm type irreparably damages the transducer with the subsequent breaking of the membrane

Each time that the tank is completely emptied, that is below 10 cm, after re-filling it is important to release the air from the transducer through opening the screw. This is only to be carried out on surface transducers.

Do not enter the hole of the transducer with a pointed object and press on the membrane or apply pressure on it.

Pressure over one bar will irreparably damage the transducer.

Keep away from direct heat

Keep away from radio equipment

Do not bend the electric cable into a "U" shape

Fix the connector from the transducer to electric card, with the cable facing down. The connector is polarised, but in any case the incorrect assembly of the connector irreparably damages the transducer.

Do not unscrew the socket-head screw. Opening these causes the transducer to work incorrectly.

Ensure that the transducer is fixed at a height of 10cm from the release air screw at the bottom of the tank. Failure to observe this level will causes an incorrect reading of the liquid level.
MANIPULATION OF THE LEVEL TRANSDUCER YPE TPL1
Do not enter the hole of the transducer with a pointed object and press on the membrane or apply pressure on it. Pressure over 25 bars will irreparably damage the transducer.

Keep away from direct heat

Keep away from radio equipment

Do not unscrew the transducer. The opening of this causes damage to the pressure transducer.

Do not bend the electric cable into a "U" shape
| TRANSDUCER TYPE | TP1/10 BAR |
| --- | --- |
| TENSION FEED | +5V Stabilizing |
| TENSION OUTPUT | 0V – +5V |
| LINEARITY | ±0,4% |
| STABILITY | 0,5% max. |
| TYPICAL TOTAL MARGIN ERROR | ± 2,0% |
| WORKING LIFE OF TRANSDUCER | -20°C + 50°C |
| STABILITY | 0,25% max |
| TYPICAL TOTAL MARGIN OF ERROR | ±1% |
| TYPICAL TOTAL MARGIN OF ERROR | ±1% |
| WORKING LIFE OF THE TRANSDUCER | 1 Milion full loads |
| WORKING PRESSURE | 10bar |
| OVERPRESSURE | 25 bar max. |
| WORKING TEMPERATURE | -20°C+40°C |
| CONNECTION | 1/4"G |
| ASSEMBLY | Vertical/Horizontal |
| SENSOR MATERIAL | CERAMICS |
| TRANSDUCER MATERIAL | BRASS |
| Ø TRANSDUCER | 32 mm |