Microprocessor control panels type "Intellilevel SLC1/C" for the control of liquid level in cylindrical vertical tanks.
The control panels of type "Intellilevel SLC1/C" are those that allow us to control the level of the liquid in the tank at any time.
The level transducer that comes with this type of control panel is designed to be submerged in liquid therefore it is suitable to be fixed on a vertical tank, either on the inside or outside of the tank.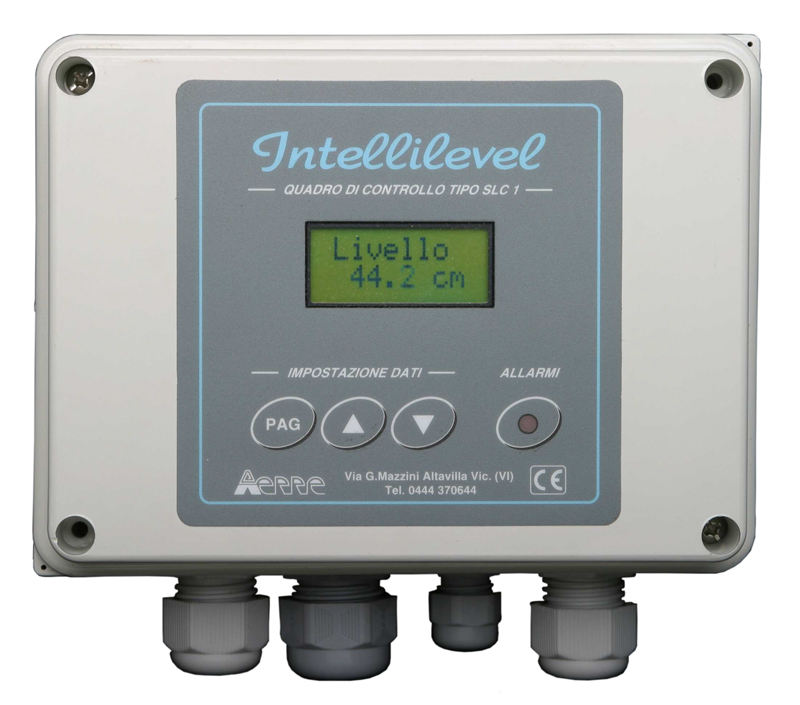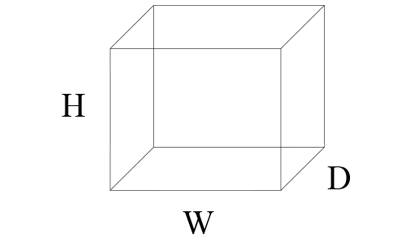 H=120mm W=160mm D=75mm
DIME OF IMPLANTATION H= 72mm W= 112mm
THE SYSTEM INCLUDES:
Level transducer type TDL1: included in the price of the control panel, cable length max 2mt

Control panel
THE CONTROL PANEL INCLUDES
Liquid crystal display showing the data and alarms

Buttons for setting the data

Micro Visualisation of the height of the liquid in cm with decimal point

Visualisation when in reserve

Visualisation when empty (pump stop)

Possibility to modify the height of the minimum level from 0¸200 cm, 0¸350 cm, 0¸750 cm

Possibility to regulate the reserve level from 0¸200 cm.

Led alarms
OPTIONAL
The possibility of using alarms from a distance
ALARMS
Tank in reserve

Tank empty
TECHNICAL INFORMATION
Tension feed: 230/400V 50/60Hz ± 10%

Maximum height of the liquid: 2mt. 3,5mt, 7,5mt depending on the type of transducer used

Level indicator in cm with decimal point

Length of the transducer cable: 1.8m with the possibility to request a different length up to a maximum of 50 m

Free potential contact 250V/5A to show at a distance the alarm sounded

Precision: ± 1% F.S.

Possibility to set the density of the liquid between 0.2 g

Linearity: 0.2% in the intermediate values.

Level of protection: IP55

Working temperature: -25°C/+ 50°C

Humidity 50% at a temperature of 50°C
VISUALISATIONS
Level of the liquid

Reserve

Empty

Volume in litres
Technical data of the control panels types intellilevel SLC/M, SLC/T, SLC/C/M, SLC/C/T SLC1 AND SLC1/C
Tension feed 230/400V. 50/60Hz. ± 10%

Maximum height of the liquid depends on the type of level transducer used; 2mt., 3,5mt, 7,5mt

Indication of liquid level in cm with decimal point

Free contact potential 250V/5A to see from a distance the cumulative alarms (optional)

Level of protection IP55

Working temperature –25°C / 50°C

Relative humidity 50% at a temperature of 50°C

Maximum length of the cable from the transducer to the control panel 50mt
Intellilevel SLC1 models
CONTROL PANEL TYPE
MAX. POWER TO 230V. MONOPHASE
MAX. POWER TO V.230 TRIPHASE
MAX. POWER TO V.400 TRIPHASE
MAX. CURRENT
ADJUSTABLE
DIMENSIONS IN mm
 KW
 HP
 KW
 HP
KW
HP
 H
 W
 D
CDL1
1.1
 1.5
 2.2
 3
 4
 5.5
 25A
 240
 180
 115
CDL2
5A
 110
 150
 75
SLC/M
1.1
 1.5
 25A
 240
 180
 115
SLC/T
 2.2
 3
 4
 5.5
 25A
 240
 180
 115
ALC/C/M
1.1
 1.5
 25A
 240
 180
 115
SLC/C/T
 2.2
 3
 25A
 240
 180
 115
SLC1
5A
 110
 150
 75
SLC1/C
5A
 110
 150
 75